Cover picture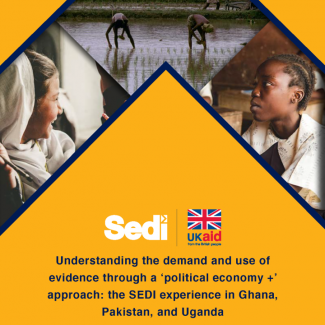 Understanding the demand and use of evidence through a 'political economy +' approach: the SEDI experience in Ghana, Pakistan, and Uganda
This learning brief summarises the experience of designing, conducting, and reflecting on a novel methodology for understanding the political economy of government agencies' use of evidence.
Download publication files
Publication content
This learning brief explores the 'political economy plus' (PEA+) methodology that was developed under the Strengthening the Use of Evidence for Development Impact (SEDI) programme, which was funded by the UK Foreign, Commonwealth and Development Office (FCDO) and implemented across three sectors in Ghana, Pakistan, and Uganda.
The PEA+ approach intended to ensure that the programme's subsequent choice of who to work with and what to work on was informed by a detailed and in-depth understanding of contextual realities.
This brief is aimed at programme managers who wish to strengthen the use of evidence in government decision-making – whether that is their primary aim or part of a wider approach to supporting government agencies through the process of policy development, design, and implementation.
Other SEDI publications: