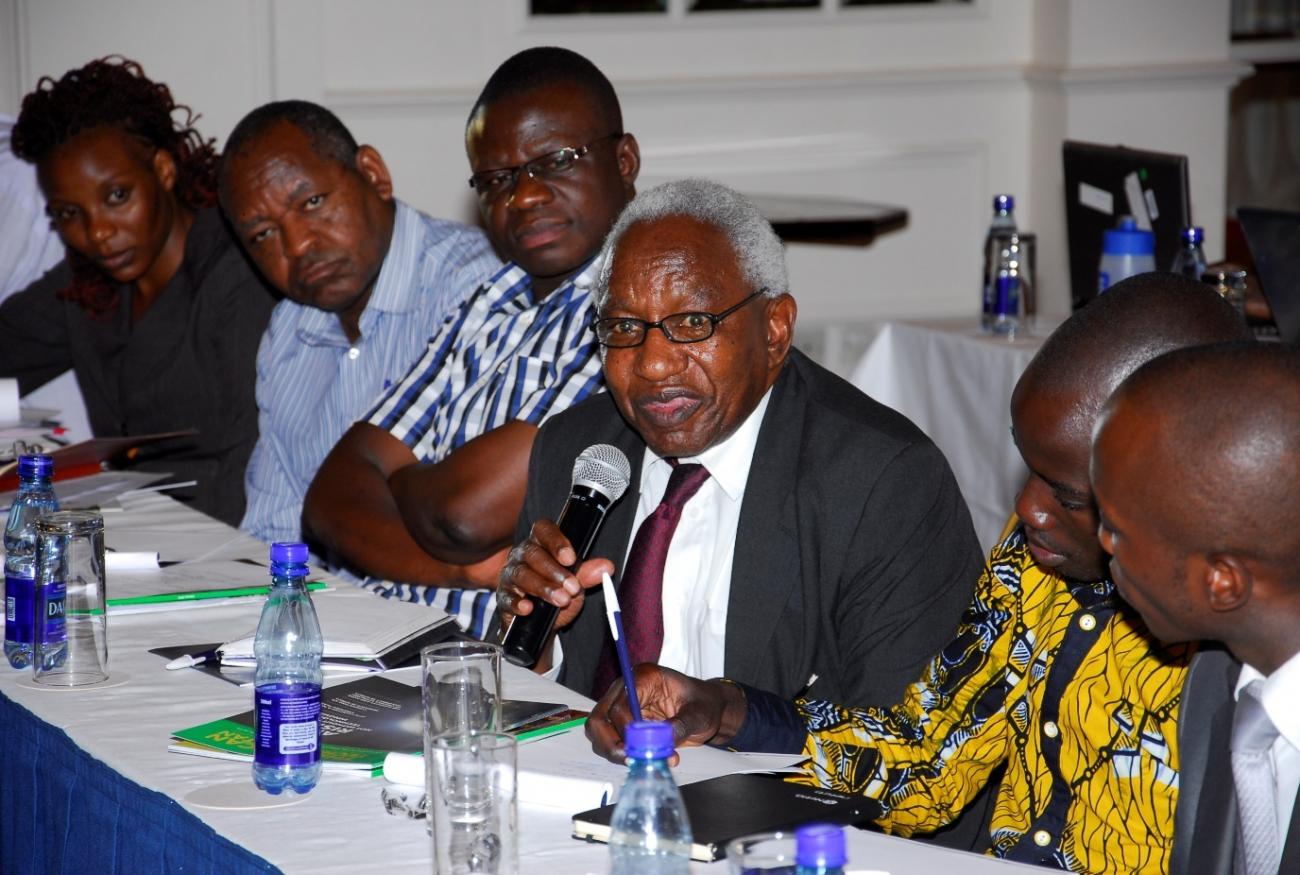 Convening dialogues across the research system
Project description
Led by INASP, the VakaYiko Consortium aimed to strengthen the use of research evidence in policy making, working to build capacity at individual, institutional and systems level.  At systems level, the programme sought to address issues of accountability and participation, fostering critical dialogue and debate with actors across the research-to-policy system, including civil society organisations, think tanks and government departments.  
One approach to strengthening these networks and communication channels was through public engagement events, which VakaYiko partners implemented in different ways in Ghana, Kenya, Peru and Zimbabwe. These included:
Policy Dialogues: discussions between researchers, civil society organisations and policymakers to enhance non-government stakeholders' understanding of the policy process, as well as policymakers' understanding and appreciation of evidence generated by non-government stakeholders. Usually held in partnership with a specific government department these events discussed current topics on the policy agenda.
Knowledge Cafés: Research is just one in a range of types of evidence that are useful for policy, including citizen knowledge, M&E information, statistical data and expert knowledge.  Knowledge cafés give local civil society organizations, researchers, media and members of the public the opportunity to share their own evidence and experience directly. These were more informal events, usually hosted by civil society organisations rather than in partnership with a government department.
Developing the approach with Zimbabwe partners
ZeipNET held four Knowledge cafés and five Policy Dialogues on a wide range of topics relevant to Zimbabwe's current policy landscape. ZeipNET took a participatory approach to selecting topics, developing concept notes for Knowledge Cafés collaboratively with NGOs and for Policy Dialogues with government ministries. In doing so it also developed its role as a convening organisation at the intersection of evidence and policy.
Policy Dialogues 
'Trade and industrialisation' in partnership with Ministry of Industry and Commerce (July 2014) 
'Youth economic opportunity in partnership' with Ministry of Youth (December 2014) 
'Role of standards in industrialisation and quality assurance' in partnership with Ministry of Industry and Commerce (August 2015) 
'Youth Council Act Review' in partnership with Ministry of Youth (August 2015) 
'Building and validating the evidence for the Zimbabwe Youth Empowerment Strategy' in partnership with the Ministry of Youth (July 2016) 
Knowledge Cafés 
'Gender mainstreaming' in partnership with the Women's Coalition of Zimbabwe (March 2015) 
'EIPM in Zimbabwe: challenges and opportunities' in partnership with US Embassy Public Affairs Section (November 2015) 
'Strengthening the institutional policy landscape in Zimbabwe' in partnership with Africa Evidence Network (January 2016)
Achievements
The public engagement series in Zimbabwe proved to be a valuable way to stimulate discussions about topical policy and evidence issues.
All three of ZeipNET's government partners (the Ministry of Youth, Ministry of Industry and Commerce, and Parliament) used the programme to explore ways they could engage better with researchers through roundtables and events. 
ZeipNET's policy dialogues on the Zimbabwe Youth Council Review led to the formation of a Roundtable Action Group comprised of ZeipNET, the Ministry of Youth, and the Zimbabwe Youth Council to advocate for evidence use to support the Youth Council's work.
Learning from Zimbabwe in Ghana and Uganda
The Ghana Information Network for Knowledge Sharing (GINKS) drew on the ZeipNET model to run a series of policy dialogues at local government level in four regions of Ghana. They highlighted the limited opportunities for policymakers and planning officers in local government to engage with the research community in Ghana, the impact of both resources and politics on the use of evidence, and a need to strengthen capacity in the Local Government Service.
In Uganda, the Uganda National Academy of Sciences (UNAS) adapted the knowledge café format for its work with the Parliament of Uganda's Department of Research Services (DRS). The convening power of UNAS helped to strengthen Parliament's links with Uganda's research community, addressing issues including biosafety and biosecurity, governance and accountability, and investment and industrialisation. They also co-hosted the Parliament's first Research Week, which brought the evidence community together through an exhibition and a series of events. 
Convening in Kenya and Peru
In Kenya, a series of roundtables gave policymakers the opportunity to meet climate-change experts who supplied technical evidence to strengthen the Kenya Climate Change Bill. In this model the African Centre for Technology Studies (ACTS) responded to a specific policy window of opportunity and were successful in providing direct inputs to policy content.
In Peru, the Alianza para el Uso de la Evidence, held many 'how-to' events for policymakers and researchers, and provided a forum for policy research institutes to present their findings directly to policymakers and other interested parties.