Cover picture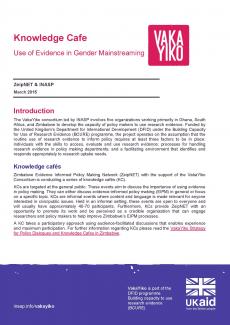 Knowledge Cafe on Use of Evidence in Gender Mainstreaming
This is a report of a gender mainstreaming knowledge cafe that was held in Zimbabwe in 2015.
Download publication files
Publication content
On 24 March 2015 ZeipNET held a knowledge cafe focusing on the 'Use of Evidence in Gender Mainstreaming' at the Book Café in Harare, Zimbabwe. This report examines the process, feedback from participants and lessons learnt.