Cover picture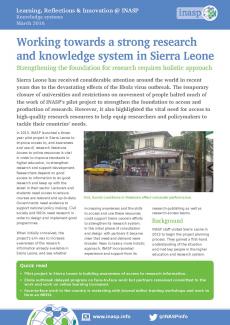 Working towards a strong research and knowledge system in Sierra Leone
This article discusses the three-year pilot project that INASP launched in Sierra Leone in 2013 to improve access to, and awareness and use of, research literature.
Download publication files
Publication content
Sierra Leone has received considerable attention around the world in recent years due to the devastating effects of the Ebola virus outbreak. The temporary closure of universities and restrictions on movement of people halted much of the work of INASP's pilot project to strengthen the foundation to access and production of research. However, it also highlighted the vital need for access to high-quality research resources to help equip researchers and policymakers to tackle their countries' needs.
Publication type
Learning, reflections & innovation