Cover picture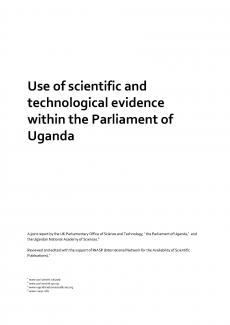 Use of scientific and technological evidence within the Parliament of Uganda
This report sets out the findings of research carried out into how the Parliament of Uganda currently handles Science, Technology and Innovation (STI).
Download publication files
Publication content
Science and technology are increasingly recognised as crucial issues for the Parliament of Uganda - as illustrated by the setting up of the Parliament's first Standing Committee on Science and Technology in 2002.
In 2008, to strengthen its handling of Science, Technology and Innovation (STI), the Ugandan Parliament entered into a collaboration with the UK Parliamentary Office of Science and Technology (POST) and hosted an initial brainstorming session for what has become known as the 'POST Programme'.
To inform the activities of this Programme, the Parliament of Uganda, POST and the Ugandan National Academy of Sciences (UNAS) conducted research into how parliament currently handles STI. The findings are set out in this report. Its intended audience goes beyond the POST Programme, as our research has brought to light issues that are important to other stakeholders and that extend beyond STI.