Cover picture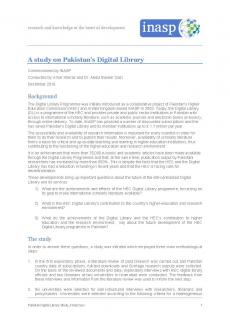 A study on Pakistan's Digital Library
A report discussing the findings of a study carried out to assess the impact of the Digital Library (DL) programme in Pakistan.
Download publication files
Publication content
The accessibility and availability of research information is important for every scientist in order for them to do their research and to publish their results. Availability of scholarly literature forms a basis for critical and up-to-date teaching and learning in higher-education institutions, thus contributing to the functioning of the higher-education and research environment.
In Pakistan, the Digital Library Programme was introduced as a collaborative project of Pakistan's Higher Education Commission (HEC) and INASP in 2003. Today, the Digital Library (DL) is a programme of the HEC and provides private and public sector institutions in Pakistan with access to international scholarly literature, such as academic journals and electronic-books (e-books), through online delivery. To date, INASP has provided a number of discounted subscriptions and this has saved Pakistan's Digital Library and its member institutions up to £ 1.7 million per year.
More than 75,000 e-books and academic articles have been made available through the Digital Library Programme and that, at the same time, publication output by Pakistani researchers has increased by more than 500%.
The HEC and the Digital Library has had a reduction in funding in recent years and that the HEC is facing calls for decentralization. In light of these developments, this study asks:
1) What are the achievements and effects of the HEC Digital Library programme, focussing on its goal to make international scholarly literature available?
2) What is the HEC Digital Library's contribution to the country's higher-education and research environment?
3) What do the achievements of the Digital Library and the HEC's contribution to higher-education and the research environment, say about the future development of the HEC Digital Library programme in Pakistan?