Cover picture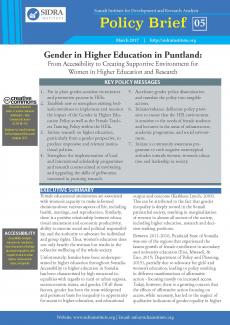 SIDRA gender policy brief
A SIDRA policy brief based on the output of a knowledge exchange conference held in Puntland, Somalia in November 2016 to discuss gender in higher education.
Download publication files
Publication content
Female educational attainments are associated with women's capacity to make informed decisions about various aspects of life, including health, marriage, and reproduction. Similarly, there is a positive relationship between educational attainment and economic productivity, ability to exercise social and political responsibility, and the authority to advocate for individual and group rights. Thus, women's education does not only benefit the woman but results in the collective wellbeing of the whole society. Unfortunately, females have been underrepresented in higher education throughout Somalia. Accessibility to higher education in Somalia has been characterized by high structural inequalities with regards to rural or urban regions, socioeconomic status, and gender.
To discuss the challenges and opportunities facing women in higher education and possible solutions, SIDRA arranged a knowledge exchange conference to discuss gender in higher education in Puntland, Somalia on 21-23 November, 2016. This policy brief is based primarily on the output of the conference.