Cover picture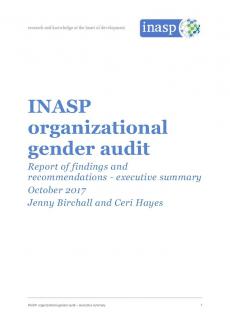 INASP organizational gender audit: Report of findings and recommendations - executive summary
The executive summary of the organizational gender audit which was carried out on INASP in 2017.
Download publication files
Publication content
Between April and October 2017 an independent organizational gender audit was carried out on INASP, with the aims of:
Exploring how effectively the particular needs of women and men have been accounted for in INASP organizational policies and culture and identify any critical gaps or challenges and how these can be addressed.
Enhancing understanding of INASP management of the importance of gender issues in the context of HR policies and practices and organizational culture.
Identifying key lessons and tools which can be used to ensure gender can be mainstreamed practically and effectively into current policies and practices.
The audit was part of a broader programme of work on gender equity being undertaken at INASP. One of the principles guiding INASP's work is: "Promoting Equity: Actively addressing the needs of both men and women across all of our work and addressing issues of power within the research and knowledge system." Work in this area has included an initial gender audit of INASP's external facing programmatic work, a number of partnership projects focusing on gender mainstreaming in the research and knowledge sector, the establishment of a cross-organizational Gender Working Group, and the development of a programmes gender action plan.
This document is the executive summary of the audit's findings.