Cover picture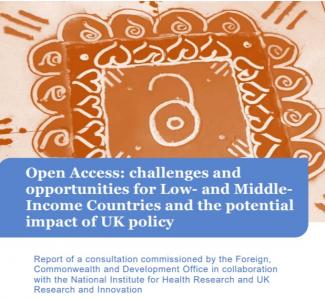 Open Access: challenges and opportunities for Low- and Middle-Income Countries and the potential impact of UK policy
Report of a consultation commissioned by FCDO in collaboration with National Institute for Health Research and UK Research and Innovation
Download publication files
Publication content
Open access (OA) aims to make the published outputs of research widely and freely accessible to all, under conditions that allow maximum reuse. OA is central to the UK Government's ambitions for research and innovation. Public funders the Foreign, Commonwealth and Development Office (FCDO), the National Institute for Health Research (NIHR) which is funded by the Department of Health and Social Care (DHSC), and UK Research and Innovation (UKRI) are reviewing their OA policies and working collaboratively to understand how to take forward the Government's ambitions.
INASP was commissioned to undertake a consultation on behalf of the FCDO, in cooperation with the NIHR and UKRI, to understand the challenges and opportunities that OA presents to Low- and Middle-Income country (LMIC) stakeholders. The consultation was commissioned in the context of a significant increase in the UK's Official Development Assistance (ODA)-funded research spending, and a wish to ensure that OA policies and their implementation are successful in promoting OA and supporting the wider research and innovation environment, nationally and internationally. As part of this funders need to understand wider policy implications, positive or negative, and supporting actions they could take to support policy implementation and OA more broadly.
The principal aim of the consultation was to ensure that LMIC views and concerns were considered in UK OA policy development and its implementation, to propose a series of principles and building blocks to underpin UK OA policy, and to make recommendations to funders. 335 individuals representing 213 institutions in 52 countries were consulted.
The implementation of and transition to OA modes of publishing involve a complex set of issues. This report provides a "read out" of the key issues for LMICs, based on consultations with stakeholders, as a contribution to the wider evidence base.
FCDO, NIHR and UKRI will consider the report in their work on OA and it will be used, alongside other evidence, to inform the development of their OA policies. It is anticipated that the findings will also be useful for other funders in considering their approach to open access. Final decisions on FCDO, NIHR and UKRI OA policy will be made via their respective reviews.