Cover picture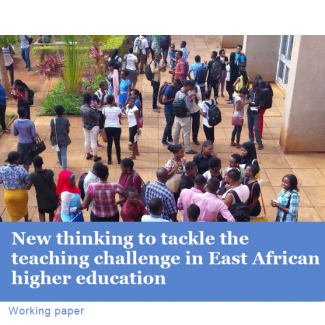 New thinking to tackle the teaching challenge in East African higher education
Realising the potential of Africa's young people requires a step change in teaching and learning within Higher Education Institutions (HEIs). This working paper describes how putting teachers at the centre of the change process, offers the possibility for real transformation.
Download publication files
Publication content
East Africa's young people are bursting with talent, but they need support to unlock their ideas and abilities and to bring this to their communities, to society and to the economy. The quality and relevance of teaching and learning is central to universities' ability to respond to these shifts.
It is lecturers who inspire students through their studies, encourage their thinking and intellectual development, create learning spaces which enable them to participate and engage in their own learning, and design the curricula and teaching methods that can help them to connect concepts and ideas to practical situations and real-world problems.
We need to support university lecturers and teaching staff to lead their own change – by enabling them to articulate their own visions for the learning environments they seek to create, supporting them to develop and strengthen their teaching practice to build those learning environments.
The challenge is therefore to find new ways to support university educators to transform their teaching themselves, and in turn to transform the opportunities that universities offer their students. How can universities and their staff rise to those challenges and support the next generation of leaders, entrepreneurs and professionals in the region?
In this paper, Jon Harle shares perspectives from 4 years of INASP's work in supporting the East African Higher Education sector.
Publication type
Learning, reflections & innovation
Reports & papers