Cover picture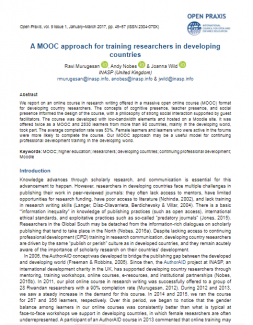 A MOOC approach for training researchers in developing countries
Paper in the journal Open Praxis about our approach to online learning for research writing training.
Download publication files
Publication content
We report on an online course in research writing offered in a massive open online course (MOOC) format for developing country researchers. The concepts of cognitive presence, teacher presence, and social presence informed the design of the course, with a philosophy of strong social interaction supported by guest facilitators. The course was developed with low-bandwidth elements and hosted on a Moodle site. It was offered twice as a MOOC and 2830 learners from more than 90 countries, mainly in the developing world, took part. The average completion rate was 53%. Female learners and learners who were active in the forums were more likely to complete the course. Our MOOC approach may be a useful model for continuing professional development training in the developing world.
Click here to read the paper in the journal Open Praxis.