Cover picture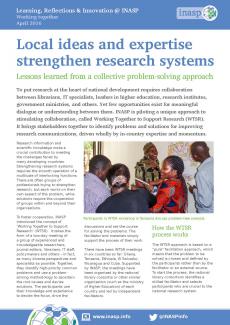 Local ideas and expertise strengthen research systems
This article discusses the Working Together to Support Research (WTSR) approach piloted by INASP to stimulate collaboration between participants who are crucial to the national research system.
Download publication files
Publication content
To put research at the heart of national development requires collaboration between librarians, IT specialists, leaders in higher education, research institutes, government ministries, and others. Yet few opportunities exist for meaningful dialogue or understanding between them. INASP is piloting a unique approach to stimulating collaboration, called Working Together to Support Research (WTSR). It brings stakeholders together to identify problems and solutions for improving research communications, driven wholly by in-country expertise and momentum.
Publication type
Learning, reflections & innovation