Cover picture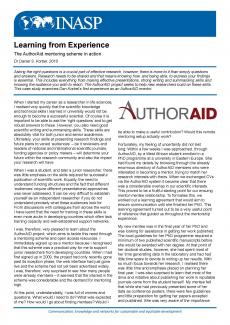 A case study about the AuthorAID mentoring scheme.
Download publication files
Publication content
The AuthorAID mentoring scheme in action
Asking the right questions is a crucial part of effective research. However, there is more to it than simply questions and answers. Research needs to be shared and that means knowing how, and being able to express your findings is essential. The AuthorAID project seeks to help new researchers build and develop their skills. This case study examines Dan Korbel's first experience as an AuthorAID mentor.