Cover picture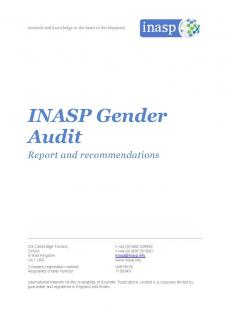 INASP Gender Audit: Report and Recommendations
This report outlines the scope, methodology, findings and recommendations arising from the INASP gender audit which took place in 2016.
Download publication files
Publication content
Supporting partners to mainstream and address gender issues within their institutions also requires INASP to better address gender issues within our own organization.
During 2016 we conducted a gender audit of our programme work to identify how we can better account for the needs of men and women in our programmes. We are  implementing action plans based on the audit recommendations - see the full report below.
In 2017, we also commissioned an independent audit of our organizational policies and processes. The findings from this audit can be read here.