Cover picture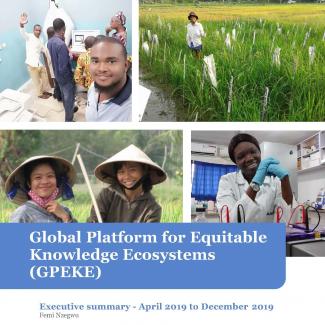 Global Platform for Equitable Knowledge Ecosystems (GPEKE) 2019
Executive summary of GPEKE project report for the time period April 2019 to December 2019
Download publication files
Publication content
The four-year Global Platforms for Equitable Knowledge Ecosystems (GPEKE) project began in April 2019. The project goal is to enable stronger and more equitable research systems that allow more talent to be unleashed. GPEKE is arranged around three project outcomes:
Outcome 1: An enhanced and sustainable global platform that supports researchers to develop their research skills

Outcome 2: Greater research capacity enabled and sustained across the national research system in Uganda and Ethiopia

Outcome 3: Pathways to enable greater research capacity in Cambodia identified and supported.
This report presents an overview of our activities for the period from April to December 2019.