Cover picture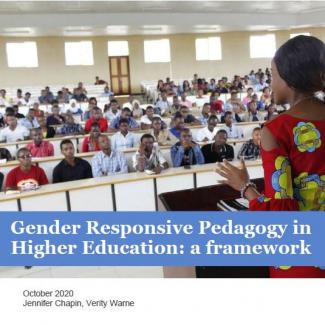 Gender Responsive Pedagogy in Higher Education
A framework and approach to supporting gender responsive pedagogy within higher education institutions in low-resource or low-infrastructure environments, enabling both lecturers and their students to become gender-responsive professionals.
Download publication files
Publication content
Globally, 111 women for every 100 young men enrol in higher education. But, women's participation in higher education is a major concern in many regions of the world. In Africa, higher education institutions tend to be overwhelmingly male-dominated with only 72 women for every 100 men enrolling.
While much attention is focused on enrolment, women's ability to learn and progress in their studies, and their future employability, depend significantly on their classroom experiences.
This experience can be improved by taking a gender responsive approach to the planning and facilitation of teaching and learning processes that address the needs of both male and female learners.
In Gender Responsive Pedagogy in Higher Education: a framework,we review why gender responsive approaches to teaching and learning are needed, situate the concept within existing approaches to gender and pedagogical reform, and provide an overview of our framework.
Integrating Gender Responsive Pedagogy into Higher Education: Our approach takes a more detailed look at how we support institutions to go through their gender responsive journey in practice.
Tried and tested in East Africa
Much existing research on gender responsive pedagogy is focused on either Northern education systems or on primary and secondary education. INASP and our partners co-developed and piloted our approach to supporting gender responsive pedagogy within higher education institutions under the auspices of the Transforming Employability for Social Change in East Africa (TESCEA) project.
The project trained 307 lecturers, re-designed 186 courses, reached 3,650 students and created a community of 30 expert facilitators in Tanzania and Uganda

Teaching staff have incorporated a new approach to gender-responsive pedagogy that weaves gender into all aspects of teaching: lecturing, learning design, assessment and mentoring