Cover picture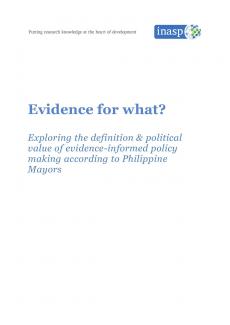 This report explores the definition and political value of evidence-informed policy making (EIPM) within the context of local government in Philippines.
Download publication files
Publication content
In an ideal world, policy making would be informed by a range of evidence which would contribute to many factors considered in the decision making process. This is important, not least because of the social, political and moral consequences these decisions have on the lives of the citizens. However, more often, policy making is a pragmatic process driven by the politicised (and even personal) aspirations of politicians including whether or not policies can get them re-elected.
This question about the incentive to use research by policy makers is an important area to understand when thinking about approaches to stimulate demand for research uptake. This study tries to bridge the understanding and importance of EIPM between those who produce research and those who consume it for policy purposes; and to evaluate the political  value of EIPM in local policy making within the context of local government in Philippines.
This study was funded through an INASP small grant in 2012. It was conducted, and this report written, by Anne Lan Kagahastian-Candelaria, Ph.D. Also see Anne's blog post on the study: The politics of evidence in policy making.