Cover picture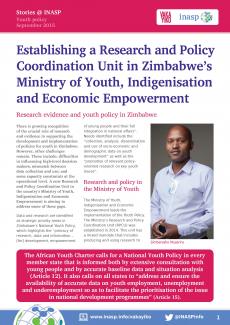 Establishing a Research and Policy Coordination Unit in Zimbabwe's Ministry of Youth, Indigenisation and Economic Empowerment
This case study looks at research evidence and youth policy in Zimbabwe.
Download publication files
Publication content
There is growing recognition of the crucial role of research and evidence in supporting the development and implementation of policies for youth in Zimbabwe. However, other challenges remain. These include: difficulties in influencing high-level decision makers; mismatch between data collection and use; and some capacity constraints at the operational level. A new Research and Policy Coordination Unit in the country's Ministry of Youth, Indigenisation and Economic Empowerment is aiming to address some of these gaps.