Cover picture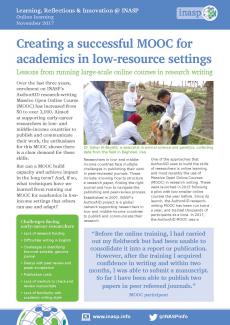 Creating a successful MOOC for academics in low-resource settings
This article discusses the lessons learned from running INASP's large-scale online courses in research writing in low-income settings.
Download publication files
Publication content
Over the last three years, enrolment on INASP's AuthorAID research-writing Massive Open Online Course (MOOC) has increased from 50 to over 3,000. Aimed at supporting early-career researchers in low- and middle-income countries to publish and communicate their work, the enthusiasm for this MOOC shows there is a clear demand for these skills.
But can a MOOC build capacity and achieve impact in the long term? And, if so, what techniques have we learned from running our MOOC for academics in low-income settings that others can use and adapt?
Publication type
Learning, reflections & innovation