Cover picture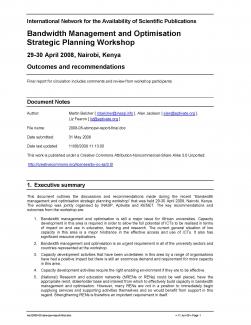 Bandwidth Management and Optimisation strategic planning report
This is a report of the Bandwidth Management and Optimisation Strategic Planning Workshop which took place in Nairobi, Kenya in April 2008.
Download publication files
Publication content
Strategic planning and management decisions are essential issues in bandwidth management and optimisation. A bandwidth management and optimisation strategic planning workshop was held 29-30 April 2008 in Nairobi, Kenya. It was jointly organised by INASP, Aptivate and KENET. It brought together selected professionals working in the areas of bandwidth management at African universities, Research and Education Network (REN) development and invited experts.