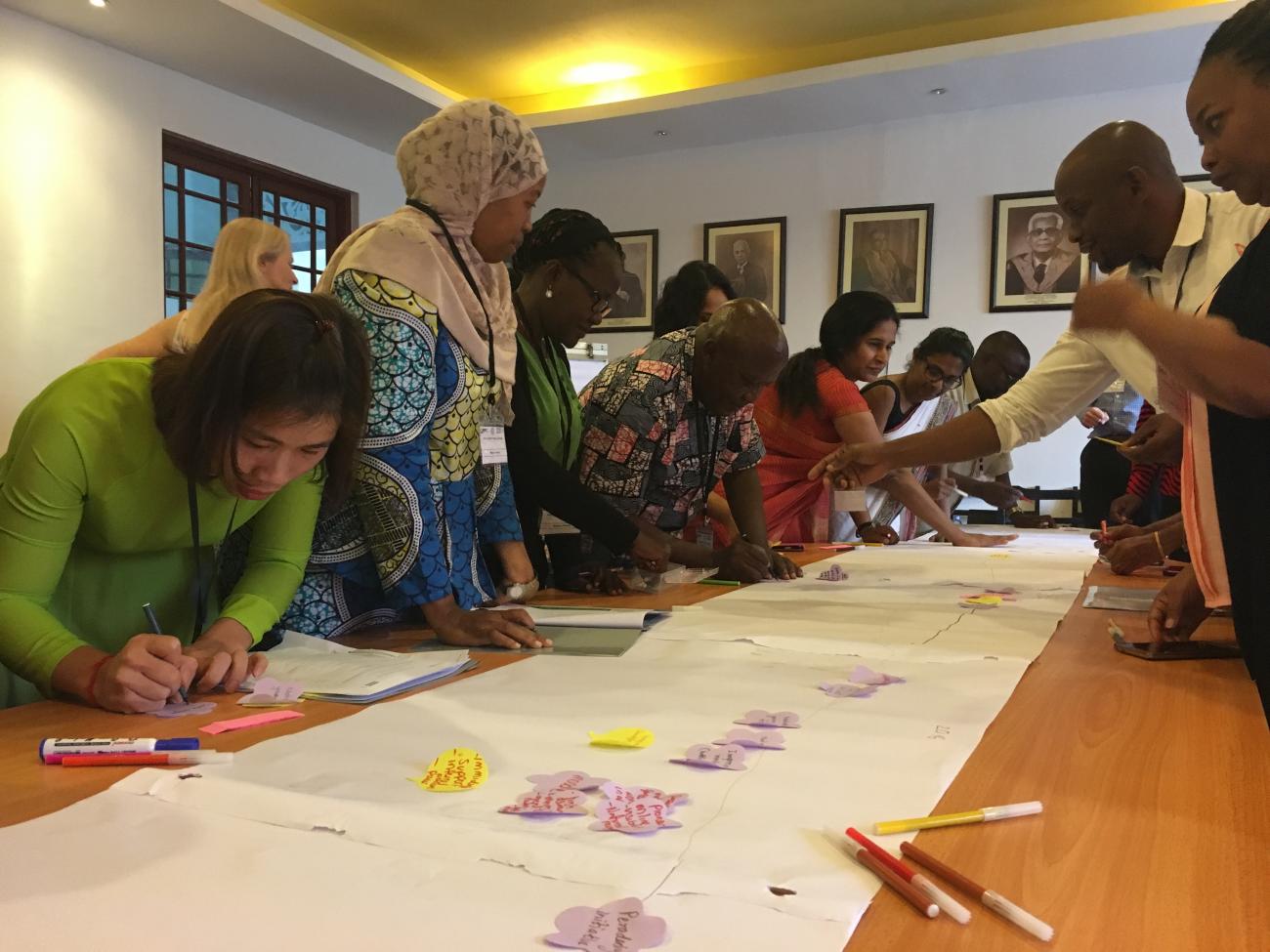 Embedding research writing in African and Asian institutions
Project description
INASPs AuthorAID project aims to build the confidence, knowledge and skills needed by southern researchers and organizations so that their research can be published and communicated. The AuthorAID network was initiated by INASP in 2007.
Recognizing that sustainable skills development must be owned and driven by local universities and research institutions, starting in 2013, the AuthorAID project supported 10 universities and research institutions in Africa and Asia to establish research-writing skills training for researchers, faculty and students.
The aim was to develop local capacity in research communication and training, so that support could be offered to staff and students into the future, without continued reliance on external trainers and ad-hoc project-based support. Local trainers and institutional staff were fully trained in managing a workshop programme, mentoring early-career academics and facilitating regular courses.  
The elements of embedding partnerships included:
Training of local trainers and the development of new pedagogy skills for adult learning

The development of local online training and learning capacity, including the creating of online learning platforms and supporting in building online course moderation and facilitation skills

Developing and implementing successful workshop, mentoring and writing club programmes

Developing a plan for long-term sustainability
Throughout the process, INASP provided advice and guidance in a range of organizational aspects, such as how to best sustain the courses beyond the funding period and how to monitor and evaluate them.
Partners were encouraged to share their experiences, learning, challenges and innovations with each other through peer to peer learning. Opportunities for learning and exchange between the different partner institutions were cultivated through meetings, events and existing INASP networks.
I am in the process of subediting the next Ceylon Medical Journal (CMJ) issue and we are going to have at least 8 research papers in it. When we started the three year collaboration with AuthorAID one aim was to persuade researchers in Sri Lanka to submit more articles to CMJ. At that time we were publishing only about three to five papers per issue. - Dr. Anuruddha Abeygunasekera, Sri Lanka Medical Association, Colombo
Achievements
Embedding training in research institutions provides a cost-efficient alternative to the traditional style of internationally facilitated face-to-face training.

Local training capacity has been created where there may have been very little before; the impact of new pedagogies often spreads to other areas of the institution and limits the need to rely on outside consultants or trainers.

Developing AuthorAID online courses supports institutions to create wider online learning platforms that allows them to reach students and researchers off campus.

Embedding partnerships allow for course adaptation to local needs, which in turn creates ownership.

If the course is sustainably embedded, the investment costs related to organizational capacity development will have cascading effects throughout the institution.
When we started the programme we wanted to increase the number of fundable proposals produced, and actually funded, and increase the number of journal articles and book chapters produced per year. I am happy to report that so far the number of manuscripts being developed is overwhelming. We are currently preparing for a conference later this year and the number of abstracts submitted from [one of the TAFIRI centres] Kigoma alone is five—all written by course participants. - Ismael Kimirei, Fisheries researcher, TAFIRI
The Tanzanian Fisheries Research Institute

optimized its online platform for mobile compatibility, allowing researchers undertaking field work to train and access resources and support, even while in rural or remote locations.

At the Open University Tanzania, the online course facilitation team took extra steps to ensure a visually disabled course participant could complete and thrive in the course. The participant said that the ability to access the course had been invaluable, "the course has provided me with very useful research writing skills…I am applying the skills and knowledge gained to write my dissertation in Masters in Social Work at OUT."

The University of Dodoma in Tanzania proposals has increased the number of fundable proposals from little-to-none in 2014 to 20 proposals already funded between 2016 and 2017, and 42 new submissions in January 2018. Internationally submitted proposals have also increased; between 2016 and 2017, six projects have been funded.

The writing club model designed and implemented successfully by the University of Colombo in Sri Lanka has been adapted by other embedding partners, who have seen the success garnered from a low-cost hands-on approach. In 2017, Colombo calculated that there had been at least 10 publications as a result of their writing clubs.
It is just two weeks now since I completed my online training on proposal and research writing organized by INASP's AuthorAID jointly with Open University of Tanzania (OUT)...This training has helped me to improve my proposal in the MSc studies that I'm currently doing with OUT. Furthermore, the participants have formed a Journal Club at our university and we are now sharing among ourselves information about research and announcements from AuthorAID about funding and training courses. - Victor Mtulimbogo, Training course participant
Blog: Innovation and success with AuthorAID in Tanzania, Ghana, Vietnam and Sri Lanka
Blog: AuthorAID partners meeting reveals shared optimism for the future of research capacity building
Lead partner
Logo

Partners
Logo

University of Dodoma
Logo

Open University of Tanzania (OUT)
Logo

Muhimbili University of Health and Allied Sciences
Logo

Tanzanian Fisheries Research Institute
Logo

St. John's University
Logo

Council for Scientific and Industrial Research
Logo
Sri Lankan Medical Association (SLMA)
Logo

Faculty of Medicine, University of Colombo
Logo

Thai Nguyen University
Logo

University of Peradeniya