Cover picture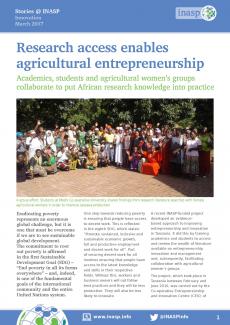 Research access enables agricultural entrepreneurship
This case study looks at an INASP-funded project which took place at Moshi Co-operative University in 2016 to develop an evidence based approach to improving entrepreneurship and innovation in Tanzania.
Download publication files
Publication content
Eradicating poverty represents an enormous global challenge, but it is one that must be overcome if we are to see sustainable global development. The commitment to root out poverty is affirmed in the first Sustainable Development Goal (SDG) –  "End poverty in all its forms everywhere" – and, indeed, is one of the fundamental goals of the international community and the entire United Nations system.
Country
Tanzania (United Republic of)