Cover picture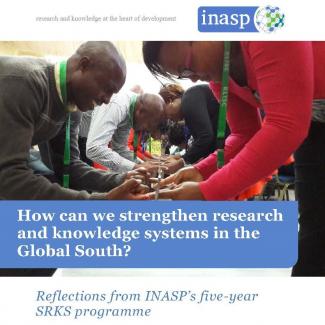 How can we strengthen research and knowledge systems in the Global South?
Reflections from INASP's five-year SRKS programme
Download publication files
Publication content
Between 2013 and 2018, DFID and Sida funded INASP's Strengthening Research and Knowledge Systems (SRKS) programme. SRKS worked at individual, organizational and national levels in the Global South to support research and knowledge systems. Central to the programme were the principles of high-quality capacity development; sustainability; local leadership; adaptability; partnership; gender equity; and learning.
Southern-led organizational change and adaptive learning are important for strengthening research and knowledge systems in low- and middle-income countries. We observed how targeted interventions, in response to contextual understanding and working with local partners, can be effective. The programme demonstrated the potential of online learning, even where resources are constrained, and emphasized the value of paying greater attention to redressing inequities of opportunity within research systems, particularly with gender.
This report shares key achievements and learning from the programme that will be used to inform future INASP work. We appreciate the generous support from DFID and Sida, and their continued commitment to strengthening Southern research systems.