Cover picture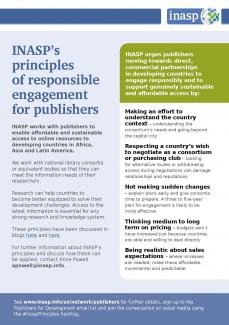 INASP Principles of responsible engagement for publishers
The INASP principles provide a guide for publishers to good practices for responsible engagement with the Global South.
Download publication files
Publication content
INASP works with publishers to enable affordable and sustainable access to online resources to meet the research needs of developing countries so that they are better equipped to solve their development challenges. Access to the latest information is essential for any strong research and knowledge system.
We have developed a set of principles to guide and assist publishers who are committed to supporting development through providing on-going access to online research information resources.